In the same article that recommended Jim's Steakout, I read about Grover's Bar and Grill (9160 Transit Rd.) in East Amherst NY. They were praised as having the best burgers in the Buffalo area. Since it's quite difficult to find a decent burger (that you don't have to go to a high end steakhouse to get) in Toronto, I wanted to give it a shot.
My party arrived at the small 12 table restaurant and it was full so we added our name to a chalkboard and waited to be seated. After about 15 minutes of checking out the waitresses coming out of the kitchen with order after order of huge burgers we were shown to our table.
Grover's is famous for their 12 ounce patties, they are cooked on a flat top grill not char broiled. I ordered the Groverburger with bacon and cheddar cheese ($6.95), the other toppings offered were lettuce, tomato and onion, simple and classic. Mustard and ketchup are available at the table to add if you wish. Burgers are served on their own with a slice of pickle, we chose a basket of rings to complete our meal.
What I like about the Buffalo area is that many burger joints will ask you how you want your burger cooked. I like this, it shows you have confidence in your ingredients. Saying this, the servers at Grover's didn't ask me how I wanted mine done.
After 10 minutes of anticipation our burgers and onion rings showed up, this was mine: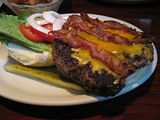 It had a wonderful crust on the outside of the burger and was still oozing juice into the bun upon arrival at the table. I kept the burger simple and didn't add any other condiments other than the lettuce tomato and onion it came with.
Biting into it revealed just the slightest hint of pink remaining in the meat, this disappeared as I continued to eat the burger. It was juicy, and had a nice beefy taste. I'm assuming it's made of ground sirloin. My only complaint about the meat is that it needs more seasoning, at the very least some more salt and pepper. At first it was a little unwieldy to eat because of the sheer size of the patty and uncompressed bun, after the first few bites it becomes easier to manage.
EDIT:
On my last trip to Grover's I had their bacon and blue burger which came topped with 5 strips of bacon and blue cheese crumble. These additions added more than enough salt to the burger..... To season or not to season?
The toppings were quality and fresh, thinly sliced tomato, green leaf lettuce, and strong white onion complimented the beef perfectly. The bacon and cheese were apparent but didn't overwhelm the taste of the beef. The bun was excellent, it was a little denser than a standard burger bun but it had to be to hold up to this beast of a patty. It was fresh and the tiniest bit sweet.
The onion rings appeared to be pre-made but were thick cut which isn't the case in most restaurants. They needed more time to drain, they left a puddle of oil in the bottom of the basked they were served in....
They might be large for most burger fans, especially people looking for craft burgers. If you're looking for a good old fashioned beefy burger that you can brag to your friends that you actually finished, this is your place.
My only major gripe is that Grover's is cash only, no debit or credit.