During my trip to Oinktoberfest last year, I went to the Anchor Bar to get some wings. The most direct route was to take Genesee St, as it was close to our starting point and ended up right near the Anchor Bar..... Little did I know that it takes you through a rougher looking part of town so to speak.... Anyway, on my way through this neighbourhood I happened across a street corner that had a large propane cylinder on it bellowing out smoke. Being in a strange town, in a strange country, in the darkness of the evening, I was too petrified to stop. I couldn't resist the lure of smoke and decided to check it out in the daylight the next day...

This was I found, Ike and BG's Rib Restaurant (1646 Gennessee St):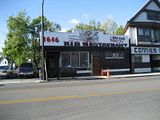 When I stopped to take the picture posted above, the owner came out and yelled ""Do you want to try something?" I wasn't sure if he was mad or was inviting us in... I pulled up in front of the place and asked him about his cooker, what he cooks on it and he told me he'd just taken a load of ribs off of it and to go in and try some....

Here is the beast: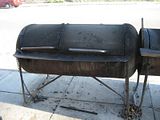 I went in and looked over the menu, fish, fried chicken, grilled chicken, and ribs. Sides were mac and cheese, slaw, green beans, baked beans, and fries. Desserts were sweet potato pie, 7 UP pound cake and banana pudding. They also had burgers and hoagies, but I was only interested in the ribs. I ordered a half slab with sauce on the side. As I waited for BG (
Ike
's wife) to prepare the food, I talked with
Ike
who was sitting by the counter in the front window of the restaurant.

He told me about his love for his neighbourhood, making sure nobody left his store hungry, even if they had no money. He said "You never know when it could be someone's last meal." This touched me. Since my visit I've found out he gives away food at Christmas time to thank his community for supporting him throughout the years.

Anyway, I asked
Ike
to pose next to his smoker for a picture: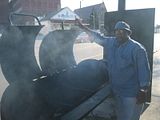 At first I was a little unsure of things because there wasn't much of a smoke ring considering they were cooked with charcoal. I've since realized that Ike must use a higher temperature than I'm accustomed to, which leaves little smoke ring. When I bit into them they were moist and very tender. I don't think the ribs are seasoned with anything more than salt before they are cooked because there was little to them other than smoke at first bite.... Once I dipped them in the sauce they came together. All in all a very solid rib.... The sauce was very nice, I soaked up the leftover sauce with the bread that was given on the side! The slaw had sweet relish in it which was a first for me. It was a nice creamy slaw but not exactly my style, the relish made it very sweet.











Coming away from this little adventure I was amazed at how friendly everyone was that came in and talked to me while I was waiting for my food. I must have stood out like a sore thumb because everyone knew I wasn't from around there right away. I guess it was the accent, or that I was the only white guy in the vicinity.
Ike
has a loyal following and greeted his customers with a smile and a handshake.