A couple of summers ago I took a trip to the east coast with my girlfriend. On the way home I decided I'd try and drive from PEI to Toronto in one shot. It was a valiant attempt but after a 12+ hour drive I had to give up and stop just west of Montreal.
We ended up in Salaberry-de-Valleyfield, tired, hungry and looking for something open late at night. We ended up calling a pizza joint called Antonio Pizza (169 rue Salaberry Ouest) that was recommended to us by the hotel.
I know of a few pizza styles, New york Pizza is usually a thinner high-gluten bread flour crust served lightly topped. Chicago style is a deep dish, almost pie-like crust with toppings piled inside of it. Montreal pizza is more like a Chicago style, coming on a crispy, slightly thick crust and arrives heavily topped. Traditionally, Montreal pizzas are served with the cheese on top of all the other ingredients.
When we ordered the pizza, there was a definite language barrier. We ordered our pie with bacon, pepperoni and olives, and, after some "pardons" and re-confirming our order a couple of times we were set. When the person told us our order would be close to $30 we broke out in a sweat. For $30 in Toronto you can get a family pizza meal at numerous chains....
When it showed up I was amazed at the weight of the box, it wasn't huge but felt like it was. It was after midnight, I was starving and I think I would have accepted just about anything. This was what met my gaze: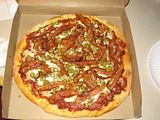 I had never seen a pizza like that before, and have yet to since. I managed to eat two slices before giving up. It was heavy but delicious. It had the requisite crisp crust, a sweet sauce that had been generously applied. The toppings, man the toppings! I think there was close to a pound of bacon on it, the pepperoni came in large slices which were buried under the bacon, olives and cheese.
I had cold pizza for breakfast the next day and hit the road for the trip home.