Here in Canada when we say BBQ, most of us think of throwing burgers and dogs on the grill and cooking away. Purists call this type of cooking 'grilling' because you're cooking over direct heat. In the USA, BBQ is slow cooking tough cuts of meat using indirect heat using either wood or charcoal. This slow cooking takes hours and turns a tough piece of meat into tender, juicy bites of heaven.
Why aren't there any good BBQ places to eat in Toronto? Simply, it takes dedication and passion for this type of food. Briskets and pork butts can take 15-20 hours to cook if done properly, few people want to put in this type of effort. Unfortunately, a few chains pass off their product to the uneducated Canadian market, what they serve is absolute trash.
If you are ever in the southern states (although authentic BBQ is gaining in popularity in some northern states) give 'real' BBQ a try, you don't know what you've been missing....
I have been trying my hand at authentic BBQ for the past few years and I'm now getting some consistent results. I use a Weber Smokey Mountain cooker, it's relatively inexpensive and very easy to use. I have been working on my pork ribs for most of this summer and recently took a few shots of some back ribs. These were cooked using Maple Leaf lump charcoal and hickory wood chunks. I think they were slightly overcooked as they were fall off the bone tender (when ribs fall off the bone they are overcooked, we have been led to believe that this is perfection). They were very good, one of my better efforts.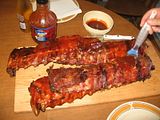 Update as of December 18, 2009:
Man, looking back on these ribs makes me smile. I had jammed six racks of ribs onto the top grate of my first WSM. I was using a rib rack big enough for four racks of ribs. The other two racks were laid perpendicularly across the top of the ribs in the rack. The black lines on the ribs are the cooked drippings from the rib bones I had laid across the top of the ribs in my rib rack.
I still do love the Buster Rhino's sauce and always have a bottle around to use in a pinch.