Ibrahim BBQ and Pizza (1967 Lawrence Ave. E) is a bit of an ironic name because I don't think they serve pizza. It's another popular Shawarma place in Scarborough. It's almost directly across the street from Farhat. In fact, there are no fewer than 9 or 10 shawarma places along this strip of road between Warden Ave. and Pharmacy Ave.
I had a beef and a chicken shawarma with a bottle of Diet Coke ($10.15 after taxes). Vegetables and sauces today included lettuce, tomato, onion, tabbouleh, cabbage and toum.
The shawarmas served here are alittle larger than those at Farhat but what really separates them is the flavour. Biting into the beef shawarma at Ibrahim you can taste the cloves, the cinnamon and mint from the tabbouleh. The vegetables support the flavours of the meat, they don't provide the flavours which was my problem with Farhat.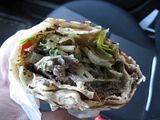 The chicken was moist and flavourful, the spicing isn't as bold as the beef, I'm assuming they use a shish taouk spice on the chicken. Again the flavours are complemented by the vegetables and sauce not provided by them.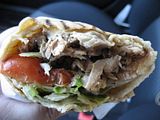 Their toum (I'm calling it toum, not sure it's the proper name for this style of sauce) is a little different than other places in that it's not whipped and looks like a yougurt with fine chunks in it which I am assuming is finely chopped garlic. It's got a great flavour but isn't quite as pungent as those from Farhat (and my favourite) Shawarma Palace in Ottawa. I think it's got another vegetable mixed in as well, possibly cucumber? Whatever it is, it's very nice.