Lin Garden (1806 Pharmacy Ave.) has been my favourite Hakka joint in the east end for the better part of a couple of years now. They've been reliable and I've ordered from there many times. I hadn't been in quite a few months so I went in this afternoon for some takeout. On the menu was their Hakka Chow Mein, Manchurian Fried Rice, Chicken Pakoras, Kan Shue Green Beans, Chili Chicken and their Crispy Beef Kam-Bien.
I had never eaten the Hakka Chow Mein ($6.50) before and I took the recommendations of some folks online who raved about it. I thought it was decent, but nothing special. I was really impressed with the size of the chunks of chicken that it contained, but it just didn't pack a lot of flavour. For the most part it tasted like I was eating oily noodles. I will revisit the leftovers later on and see if the dish was overwhelmed by other flavours, but for a first try I wasn't blown away....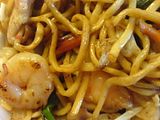 The Manchurian Fried Rice ($6.50) has been a staple of mine since I first started going to Lin Garden. It's got a uniquely perfumey flavour to it and packs a nice bit of heat without overwhelming. Today it seemed to be slightly overcooked and was a little mushy, the flavour was what I expected. It was a little disappointing because I expected more of the rice.... Ah well, we all have our off days.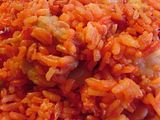 The Chicken Pakoras ($8.00) have been a must have since I started going as well. I was once again let down today, other than curry, they seemed to lack their usual flavour and were a little bland. To top things off the insides didn't appear totally cooked and were a touch doughy. I was impressed with their crispy exterior, the size of the chicken pieces and the chunks of chili I could see in the pakoras, they just weren't up to their usual standard. They lacked salt and definitely some onion.
The Kan Shue Green Beans ($6.00) were excellent. They were sweet with a touch of heat. This dish is prepared simply and the beans were the star. A touch of chili and and I was in heaven. Considering I'm not usually a fan of green beans, this dish has me converted.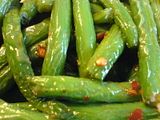 I will readily admit that Lin Garden's Chili Chicken ($8.00) isn't the greatest. I've had better at a couple of other Hakka Restaurants in the east end. It's simply out of convenience that I order it. Today I was proven right again. It really lacked much flavour other than heat from the chilies. The breaded chicken contains many pieces of gristle and tough chunks of chicken and it's a bit of a turn off. I really wish they'd make changes to their preparation or their supplier, the Hakka Chow Mein although lacking big flavour has wonderful pieces of chicken. Use them here as well!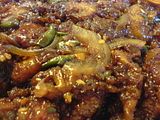 My love, other than the green beans is always the Crispy Beef Kam-Bien ($8.50). While it's not the most tender beef you'll find, in fact, some pieces can be downright chewy. The sauce they use has me hooked. It's fried in what I'm assuming is corn starch which in turn soaks up the sauce it's topped with. It results in slightly chewy, salty strips of beef when paired with green pepper and onion, results in a wonderfully dark dish.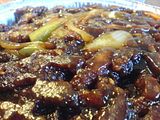 I hadn't been in a while and some folks have complained about drops in quality. Based on today's lunch I'd tend to lean in the same direction. I can't complain about the quantity of food as you're definitely not short changed. While the dishes looked the same as usual, their taste and preparation wasn't up to par. I'll give them another shot in the future, but, at the moment it appears that I'll stick to the green beans and crispy beef.