Another chain (albeit a small one) that I enjoy is
Anderson's
, located throughout the Buffalo NY area. I originally tried them when I was attending teacher's college and try to make sure I hit them whenever I'm around Buffalo.
Anderson's is a cross between an ice cream parlour and a fast food operation. They serve many different sandwiches, salads, burgers, even a very solid beef on weck. In addition, they serve both soft serve and hard ice cream and yogurt, sundaes, milkshakes and smoothies.
I really enjoy their soft-serve custard, it's velvety smooth and is extremely creamy. It's got an excellent mouth feel you don't get from other soft serve places I've been to in Canada.
I usually go for their flavour of the month although I really like their vanilla. Below is a shot of a banana/vanilla twist ($2.65) I got the last time I visited Anderson's. It's a decent value and doesn't fail to impress.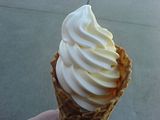 Since my original post I have fallen in love with Anderson's pistachio custard. Whenever it's available it's what I go for. This large cup was $3, a bargain.