As stated in an earlier post, authentic BBQ is a rarity in Canada, so, when someone's doing it right I have to give them a shout out.
Buster Rhino's Authentic Southern BBQ
(2001 Thickson Rd South Unit 7) is a local producer of BBQ sauces, rubs and smoked meat products. In the last year they opened up a small six or seven table dining area in the front of their Whitby facility. From here they serve pulled pork, brisket, pulled chicken and ribs all smoked on their Southern Pride commercial smoker.
I have been addicted to their brisket sandwich ($7 for a combo including fries and a pop) since the first time I tasted it. It's sliced super thinly and you're greeted by a nice smoke ring. The meat is juicy and packed full of smoked flavour. At first, I found the sandwich to be a little on the salty side, but they've worked out that kink and I think it's awesome. In fact I prefer their brisket to my own...... I know!
BBQ doesn't hold well and will dry out if you don't serve it right away. They've come up with an excellent solution. Eatch portion is individually vaccum sealed and is placed in a hot water bath. When you order your sandwich, your portion is opened and plated. You'd never know it hadn't been sliced right from the roast.
Buster Rhino's sauces are my personal favourite brand and I've used them in both BBQ competitions I've entered. There are three varieties: Championship Original, Championship Hot and Holy Habanero. I love the two that are a little less spicy. Either of them compliment this sandwich wonderfully.
As a side note, the fries offered here are wonderful, crisp on the outside and creamy inside with the perfect amount of skin left on each fry. One of the better orders of fries around!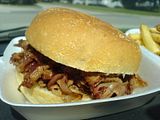 This past summer Buster Rhino's offered a brisket cheesesteak as a limited time special. I happened to try one and loved it. The bun wasn't a traditional hoagie roll and was toasted, but, it worked well with the sandwich. The griddled peppers and onions combined with a slice of provolone the smoked brisket went wonderfully together. I even topped it off with a squirt of their BBQ sauce. I wish this was on menu full time...