A tiny little shop tucked into a strip mall at Port Union Rd and Lawson Rd, the Port Union Bakery (287 Port Union Rd.) has been around for as long as I can remember. They offer a small assortment of breads, pastries and doughnuts. It's run by a lovely Filipino woman who is there every time I go in.
In my opinion, their best items are their filled doughnuts and their Filipino style empanadas. When I go I usually pick up a dozen empanadas (chicken or pork) and 6 jelly filled doughnuts (my favourite is their Boston Cream).
I think we've all experienced the 'empty doughnut' phenomenon. You go to a doughnut shop (usually a bigger chain) see a Boston cream or a jelly-filled doughnut that looks too good to pass up. You bite into it expecting to be doused with oozy jelly or cream and all you find is dry doughnut. You try again and end up with the same result. It isn't until the last couple of bites you find that tiny pocket of jelly or cream and you consider the waste of calories you just endured.....
You won't find this at Port Union Bakery. They actually slice their filled doughnuts in half and spread on the filling before reassembly so each bite has an equal amount of filling. This is exactly what you'd expect when ordering a filled doughnut. I love the Boston cream because it's a tender, yet slightly chewy doughnut filled with a pudding-like vanilla cream and then topped with a thick layer of chocolate frosting. The best Boston cream I've tried.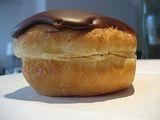 Their empanadas are Filipino style which differ from Central or South American style in that they are sweeter, containing ground chicken or pork, raisins, green peas, carrot, onion, and potato. They are seasoned with garlic, salt and pepper. South American versions I've seen are less sweet and more savory containing olives and egg, even beans and cheese and cilantro with the meats and vegetables.
The balance of sweetness and salt works well for me and the baked crust (while a little tough) still maintains a flaky texture.
I've loved these empanadas for years, and have been disppointed on a few occasions when I went in later in the day and they were already sold out. I picked these pork empanadas up at 12 noon and they had aready sold out of chicken empanadas for the day. I am torn as to which I like better, I usually lean to the pork version anyway...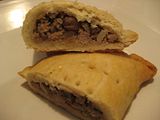 The dozen empanadas and the six Boston cream doughnuts I picked up were $11.25, a steal.