Ok, I promise, this will be my last shawarma post for a while..... Maybe.
After a quick shopping trip in the area, I stopped in at Pita Delites (102 Harwood Ave.) in Ajax. They offer both chicken and beef shawarma for $5.99 each, I tried a chicken and a beef. Frugal meter alert!
To each shawarma I added garlic sauce, which was very mild, their green pepper hot sauce (which didn't add too much heat) and tahini. They offer a wide variety of vegetables, more than any other place I've visited. I added lettuce, tomato, pickle, pickled turnip and onion.
I must say, the quality of the chicken shawarma was apparent. I think this is the first shawarma joint I've reviewed that offers breast meat in their shawarmas. I believe they use a mix of white and dark meat. The meat was very mildly spiced, if at all. I could really taste the spit roasting on the chicken rather than much spice. The only issue I have with using white meat is that it's got a small window of use before it dries out. A couple of the breast meat chunks in my shawarma were a little dry.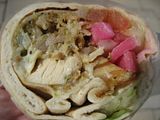 The beef was definitely spiced, I could pick out allspice (maybe cloves and cinnamon) off the bat. It had that familiar rich, beefy flavour I've experienced at Shawarma Empire and Cyrus. It really had a great taste, my only issue with the beef was the greasiness of the meat. Some places use caul fat to help maintain moisture in their beef shawarmas, I've seen it prepared this way at Ibrahim. Whatever Pita Delites does, it's overkill. Fat had oozed out of the shawarma and became trapped between the pita and the wrapper, which was a turnoff.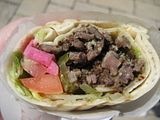 At over $13 after taxes, these were the most expensive shawarmas I've ever tried. They were generously filled with meat but you can get four similar-sized shawarmas from different places on the Lawrence strip in Scarborough for a buck or two more. Pita Delites does serve a very solid product, I liked the white meat in the chicken offering, their beef was too greasy. If I had a choice in Durham I'd still go to Cyrus, it would be a tough call though. The overall price, and the greasiness of the beef at Pita Delites would be the main factors in my decision.