A long time favourite of mine, I stopped in at Lamanna's Bakery which is located at 6758 Kingston Rd. (at Port Union Rd.) in Scarborough. They offer items from a hot table (a solid veal sandwich, lasanga slices, rice balls etc.). Deli sandwiches made from italian cold cuts, coffees and have a beautiful cake and dessert selection on display. No word of a lie, I have to restrain myself from licking the display case window whenever I go in (you have to see it to understand). It's always packed, no matter what time I go in.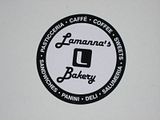 Today I picked up an assortment of pastries, including my all time favourite, the Lobster Tail (Sfogliatelle).
What is a Lobster Tail? I could describe it, but, the
Cake Boss
tells it best. It is time consuming to make but is an awesome treat. Lamanna's is absolutely stuffed with a wonderful creamy, custardy filling which contrasts the crunchy pastry. I always end up wearing most of the powdered sugar. They are a steal for $2.79 each (especially considering the cost of the rather-easy-to-assemble boutique cupcake these days).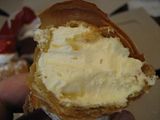 We also picked up Strawberry Tarts, Cannoli, a slice of Chocolate Cake with Raspberry Mousse, a Mini Tiramisu, a Mini Chocoloate Mousse Cake, a Mini Strawberry Cheesecake, and a couple of small, chocolate/hazelnut filled lobstertails.
I thoroughly enjoyed everything we purchased, the small pastries varied in price from $1.79 to $2.00. Our complete box was just over $20. Not too bad!
The young lady who served us could have packaged things better, most ended up mashed together in the box which was unfortunate.