A guilty pleasure of mine is the occasional Trinidadian style roti.
What is a roti? A roti can be curried chicken, goat, beef, potatoes, pumpkin (virtually any combination of meats and or vegetables) wrapped in a dhalpuri roti. A dhalpuri roti is type of wrap similar to a tortilla, with a stuffing of ground yellow split peas and spices. The stuffing is pushed into the roti dough and sealed. When rolled flat, the filling is distributed within the roti.
I recently tried a local roti joint called 4 Girls Roti Shop (113 Dundas St W) in Whitby and one I have visited quite a few times in the past, Roti Hut (351 Pitfield Rd.) in Scarborough.
I ordered a potato and chickpea roti from 4 girls and it was ready in a couple of minutes. Even though their location has a steam table out front, all of the preparation is done in the back. Actually, they have no food prepared out front and the steam table has been unused both times I have been in.... Instead, I'm pretty sure the rotis are assembled cold and microwaved on order, a little sad.
The roti after taxes came to $7.50 which is a little expensive for a vegetarian roti in my opinion, but, it is a generous portion. The dhalpuri itself has a homemade quality about it. It's very tender and the outer layer of flour is very thin and delicate. The filling is very nicely spiced and moist with a somewhat complex flavour, I thought I could pick out sage and thyme notes. I added hot sauce which gave it a pleasant tingle of heat without being too hot. I really liked this roti, price withstanding.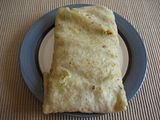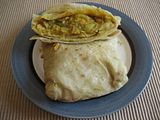 The potato roti from the Roti Hut was $5.60 after taxes, a little more reasonable, but, it was smaller than the 4 Girls roti. The roti is ordered and prepared in the back, the fillings are in pots on the stove and the dhalpuri is taken from a warmer and prepared on the spot, no microwave involved. The dhalpuri was much more tortilla like. It had a tougher skin which did hold together better than the one from 4 Girls, it seemed a little more commercial to me. I guess it's a matter of personal preference...
The filling was much thicker and pasty than that from 4 Girls, it had a nice bite of curry but also has a somewhat vinegary taste to it. Overall, I think the consistency was a little off putting and the vinegar taste (possibly from the hot sauce) knocked my overall opinion of this roti down a little bit. I hold the Roti Hut near and dear to my heart but I sadly didn't like this roti all that much....