I picked up a 2 pound tub of shucked British Columbia C. gigas oysters from
Beaver Fishery Inc.
in Scarborough to make fried oyster po' boys.
What is a po' boy?
A po' boy is a Louisiana specialty. A sandwich usually made with fried seafood (oysters or shrimp but can be made with roast beef, chicken, or even burger patties) served on a baguette or french style roll. Additional toppings can be lettuce, tomato, and mayo.
I recently found a recipe by
Sunny Anderson
from her show Cooking For Real and decided to try it out. I followed the recipe pretty much exactly as written. I did add 1/2 teaspoon of onion powder, 1/2 teaspoon of paprika and used a 1/2 teaspoon of kosher salt in the flour dredge.
The coating was excellent, only, I felt it needed a little more seasoning and a touch more salt. The remoulade was great, I didn't have capers so I added a second tablespoon of dill pickle juice. I didn't find it to be spicy at all, so, the title is a touch misleading..... Whatever! With a few tweaks next time the recipe will be a definite winner.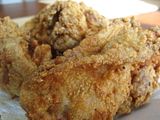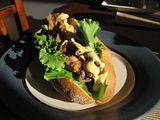 These oysters were absolutely massive! I bought 2 pounds thinking I'd make a pile of fried oysters for the sandwiches and have a pile leftover for dipping. It turned out I got exactly 12 oysters in the 2 pound tub. Yikes!