I stopped by the
Original Pancake House
(2075 Niagara Falls Boulevard) in Amherst last week while in the area doing some shopping. Another online recommendation had us in to sample a couple of their specialties, the apple pancake ($9.35) and the potato pancakes ($7.65).
Upon order we were advised that the apple pancake would take 20 minutes to cook. We were in no rush so it was perfectly fine to wait. The staff seemed pretty friendly and as we waited I sipped my coffee and my dining partner had an overpriced apple juice ($3) for a 'large' six or seven ounce cup.... Oh yeah, on the point of expensive, four strips of thick sliced bacon were added for $4.05. Yep, a buck a slice....
When the food showed up I must say it looked impressive: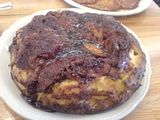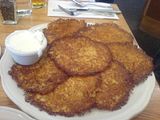 The apple pancake was still bubbling and puffed up as it arrived on the table. Cutting into it revealed lots of cinnamon laced apples, butter and I'm assuming brown sugar. The first few bites were great, the mixture worked well and it was more than enough food for the two of us to handle. After a few more bites, we were left with the sensation of chewing on sugar. The cook must have been heavy handed because as the pancake cooled we were left crunching on more and more of it. It was rather off-putting. I will admit it was a great, tasty start, but, chewing on sugar doesn't do it for me.
The potato pancakes looked impressive but tasted like fried, leftover mashed potatoes. No seasoning, not much of anything actually..... We chose sour cream as our side (we could have had bacon or apple sauce). I guess I should have saved $4 and had a couple of slices of bacon with it.....
The server who refilled a water glass for me and my coffee cup while we waited, disappeared for the duration of breakfast after we were served. I was left with empty cups waiting for refills for the remainder of our stay. I had no option of washing down my sugar other than sucking on rapidly melting ice cubes.
I wasn't really impressed, for $30 plus taxes I'm sure I could have found a better mom and pop place in the area. Heck, Bob Evans was down the street, it probably would have been a better option.