I happened upon an online review of
Bocce Club Pizza
(4174 Bailey Ave.) in Amherst NY which touted it to be the "Best Buffalo Style Pizza" in Western New York. I'm not sure what exactly classifies as a Buffalo style pizza but I will admit it was good.
The Bailey Ave location was doing a steady business as I walked through the door. I counted no less than 32 pizza ovens behind the order counter. I didn't see anyone making pizzas which I thought was a little odd. I then noticed that pans were appearing through cutouts in the wall where a couple of guys would grab the sheet pans containing assembled uncooked pizzas and place them in one of the multitude of ovens. Every so often one of the guys would slide a nearly finished pizza off it's tray and let it finish cooking directly on the bottom of the oven.
We ordered a large (18 inch) pizza with pepperoni, bacon, onion and green olives. The total cost was $21.50 before taxes. Once the pizza was assembled and cooked we eagerly took it away. This was what met our gaze upon arrival: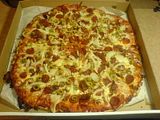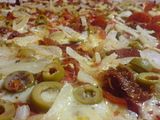 The toppings were very good, they were fresh and generously applied. The cheese ran over the outside of the crust leaving charred bit of cheese at various points around the edge of the pizza. What made the pizza stand out was the sauce, it was sweet and not overly acidic (something I find with many tomato sauces). This is what made the pizza unique. The crust however, did not. I thought the crust was very 'bready', similar to a chain crust like Domino's or more locally, Topper's pizza. If you've ever tried a Domino's bread stick, you'll know the flavour and texture of this crust. I was impressed with the overall flavour profile of the pizza, the addition of what I believe was a herbed oil was a nice touch as well.
I feel that a different crust would make the pizza amazing, as it was, I found the pizza to be solid but not outstanding.
Upon returning to Bocce Club on a second visit I tend to stand by my original assessment. The pizzas are very generously topped and I love the sauce, the crust is a little bready for me. This was a 1/2 meat lovers pizza, the perfect amount for 2 hungry people or three lighter eaters.....