Krispys Fish & Chips (53 Baldwin St) in Brooklin was established in 2008 and I've driven past it many times on my way through Brooklin. I'd always meant to stop by and last week popped in for dinner and was really impressed.
I stopped in again for lunch this afternoon and was equally impressed with their fish and chips. I had the haddock and chips ($7.50). I received a generous portion of haddock in a light beer batter. The fish was fresh and cut rustically (a thicker, oblong shaped piece, as opposed to the rectangular, flat, paper thin slices many fish & chip places offer). My only complaint is that the fish is thinner at the ends than in the middle, the batter tends to stay crisp there more than it does in the thicker, middle section of the filet. I am nitpicking here though, overall it's an excellent product.
The fries are thinner than many fish & chip places I've tried. They are very good, nicely browned and cooked perfectly throughout. The cook seasons the fries on order which is a nice touch, many places don't do this. Who likes a fried potato with no seasoning? Even fast food places do it.....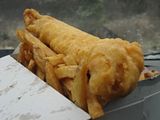 Krispy's makes excellent hand-dipped onion rings as well ($2.95). A fair portion of super crisp, hardly-at-all-greasy rings in a light batter. This contrasts the 'donut rings' offered by Starr Burger and Shamrock Burgers. These are very light, I'd compare it more to Krispy's fish & chip batter. Best of all, you get a decent portion for the money! Most places charge close to $4 for six or seven pre-manufactured onion rings, here you get a handful of house-made rings for under $3. Good on ya Krispy's.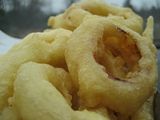 Author's Note September 25th 2011:
Sadly Krispy's closed down earlier this spring and has become a burger joint. I will try and review it in the coming weeks......