I heard about
Signature Indian Cuisine
the other day on a message board I frequent. Reading through some positive reviews, I decided to check out a couple of their lunch specials. Selected were their Chicken Vindaloo with rice ($6.95) and Chicken Tikka with Naan ($6.95).
The Chicken Tikka was moist and had decent flavour. It didn't pack a charcoal flavoured punch like other tikkas I've tried in the past. Thankfully it didn't seem to have the bright red 'food colouring' look to it that many tikkas seem to have. Overall it was nice but not outstanding.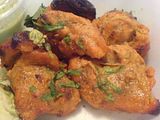 The naan that was served with the Chicken Tikka was very solid. It was similar to those served at my favourite Indian place in Scarborough (see my earlier review of Cheetal). It was freshly made, lightly charred and blistered, flaky yet still chewy, just how I like my Naan. It had the prefect amount of ghee added to give it a little extra flavour. Very good.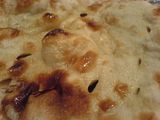 The Chicken Vindaloo and rice were acceptable but not outstanding. The curry wasn't too spicy and I picked up clove and or allspice in the sauce. The chicken pieces were chunks of Tikka that they'd added to the curry. I'd prefer chicken made specifically for the vindaloo (for added depth of flavour). I'd like them to save the Tikka for Tikka Masala not their vindaloo.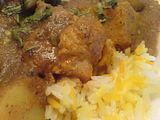 The lunch was decent, value for the money was a little lacking and the bold flavours I've experienced elsewhere just weren't here. The naan was great, the other portions of the lunch were a little 'meh'.