A few years ago I was introduced to the Village Bakeshop (5340 Main St, Orono). Over the years I've tried quite a few items they offer, from pies, cakes, tarts, bars to sausage rolls meat pies and breads. Some are great, some not, some are brought in from other suppliers, many are however done in-store. Two things that I consistently grab are their apple fritters ($1.00), and their beef rolls ($1.10).
The apple fritters are formed from what seems like a fairly loose dough and then deep fried. The fritters are usually quite thin and the dough maintains a nice crispness on the outside while remaining moist and tender inside (without being too doughy). Chunks of cinnamon laced apple are spaced abundantly throughout the fritter. The dough isn't too sweet, but the glaze makes up for it. Those with a sweet tooth will not be disappointed.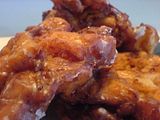 Their beef rolls are made with puff pastry and I never feel cheated with the amount of filling I get in each roll. The filling is consistent all the way through. What irks me with many bakeries I've been to in the past is that their sausage rolls or beef rolls display a nice thick piece of sausage at the end of the roll, you take a bite and the center of the roll is hollow. Shame on you bakeries, shame on you.....
The filling reminds of a Bridie stuffing in a way, it's hinted with onion, salt, pepper and a grain I am not quite sure of, at times it looks like mustard seeds, other times sunflower seeds... Regardless it's a tasty snack.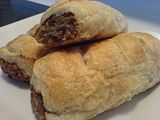 Both of these treats can be easily accessed and eaten during a trip to the cottage and make a delicious (if a little flaky) road food for the trip up north.