Today I had a craving for some Indian food and hit up a local restaurant called
Cheetal Indian-Chinese Restaurant
(271 Old Kingston Road). I've ordered many things from their Indian menu which have been great (I'll have to do a complete writeup later). The restaurant itself is a bit of a hole in the wall and the dining room isn't attractive, so I always take out. One word of warning, they offer Chinese dishes but they are not good, stick with the Indian menu.
I love their chicken vindaloo, which I order every time I go. It's described as boneless chicken cooked in a hot tangy sauce with potatoes, red chilies and vinegar. It lives up to it's name as it greets you with a spicy bite right off the bat, it's also cooked with ginger and onion and is extremely flavourful. I had the lunch special ($4.99) which comes with either rice or naan (I had them both which bumped the price to $6.25).
My only gripe about this dish is that it's oily, and I wish it was cooked using a little less as I don't think there needs to be this much in it. The overall score would be higher if it wasn't so oily, because the flavour is so, so good.
The rice was average but the naan was very tasty. I do like the combination of the sauce from the vindaloo combined with the rice, so it's a tough call to choose between the two...
It's tough to make this dish look sexy, but in the end it's all about flavour, right?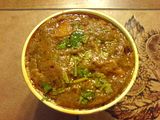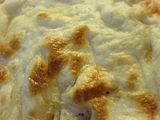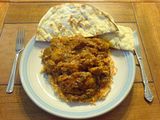 Update as of September 12, 2010:
Unfortunately Cheetal has closed their present location to concentrate on catering for the time being. I went in to order dinner the other day and the restaurant had changed to a Chinese food place, I was crestfallen.
A quick call later, I found that they are looking for a new place and are trying to open for November. We'll see how it goes... I have not found another Indian restaurant that can match Cheetal in terms of flavours and value.
Update as of March 29, 2011:
Cheetal has reopened in Niagara Falls Canada and is located at 5983 Clark Avenue. If you're in the area give 'em a shot. If they're anything like they used to be you're in for a treat! I've never really found much good food around the falls, hopefully these guys will change that.