Tonight I had the pleasure of being invited to a wedding menu tasting by my sister who is getting married later this summer. The tasting was held at the Royal Ashburn Golf Club.
On the menu was:
Broccoli cheese soup
Tomato basil soup
Stracciatella soup
Caesar salad
Spinach salad with a raspberry vinaigrette
Tossed salad with a balsamic vinaigrette

Prime rib with garlic mashed potatoes, grilled veggies and Yorkshire pudding
Chicken breast with cranberry stuffing, steamed veggies, and rosemary new potatoes
Chicken breast with wild rice stuffing,
steamed veggies, and
rosemary
new potatoes
Combo plate with grilled sirloin and breaded chicken breast, grilled veggies and rosemary new potatoes

Lemon tart
Chocolate mousse cake
Apple pie a la mode
Blueberry cheesecake
Strawberry cheesecake

Most of the food was very good, I wouldn't have been disappointed with any of the meals that were served. The
Stracciatella was very salty, the caesar salad mix was a prepared box variety, and the new potatoes were rather waxy and tasteless. Other than that, the Royal Ashburn prepared some great meals.
I missed getting pictures of the soups and the cheesecakes because we were a bit eager to get to tasting, I didn't want to take pictures of half eaten food. :)


I would love to show pictures of each plate,
but I'm sure the bandwidth hit would be huge. So for the sake of brevity, I will only post pictures of the consensus winners. The picture quality isn't that great, I will have to work on that from now on.

The Wedding Menu (as of May 10, 2007)

Broccoli Cheddar soup- Was the consensus winner, solid soup, not overly salty and very tasty.

Spinach Salad- the vinaigrette was ligh
t and refreshing, although the raspberries were pre-frozen and the croutons were a little large. Sis is going to ask for goat cheese to be added. Strangely there were some bacon bits thrown in which seemed odd. Those are going to be omitted for the actual event.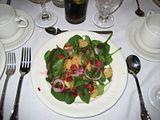 Prime rib- was the runaway w
inner of the night. The beef was tender (although fatty, but hey! It's prime rib!) The Yorkshire pudding looked and tasted home made, wonderful! The garlic mashed potatoes were excellent, nice and creamy with the perfect amount of garlic. The grilled veggies were grea
t, not too limp or overly charred. The gravy was very good as well, an excellent consistency, not too thick or runny.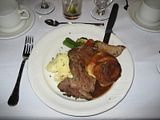 Strawberry Cheesecake- For a cheesecake it was very light, almost moussey in consistency. I am used to my family's dense
baked
cheesecakes, this was a refreshing alternative. The blueberry cheesecake seemed to have blueberry pie filling poured over it, so we decided to try and press for fresh strawberries for the actual event.