Well, I have to admit, this was not my first time visiting
Red House Thai and Malaysian Cuisine
(705 Kingston Road) in Pickering. I have been here quite a few times in the past and I am consistently impressed with each dish I try. It's a small place that doesn't seat more than twenty people at any time. Usually there is a wait but it's worth it.
Today I started with the Golden Squid $4.95. The batter was light and crispy and was seasoned with a nice dash of salt. In the past the dipping sauce has been a sweet and sour soy type sauce, but the last couple of times it has come with the peanut sauce pictured. I can't get enough of it, and it's become a must try whenever I go.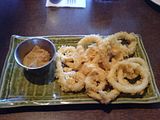 My main course was one of the lunch specials Red House offers. With each lunch special you receive a can of pop, two shrimp chips, and two spring rolls. The specials range from $7.25 to $7.55.
I had the Spicy Beef in a Sambal sauce $7.55. It's served with a side of steamed rice. This is again one of my personal favourites. The beef is tender and the vegetables arrive perfectly cooked. I enjoy spicy food and this doesn't disappoint. The heat builds gradually but never becomes overly hot, that said, it does usually get my nose running. I'd really suggest this if you enjoy some spice in your life.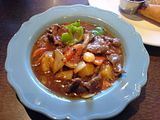 Other dishes to look out for when you visit are their Cashew Chicken and Pad Thai. I am torn as to which of these to order whenever I go. I love the Spicy Beef but the Cashew Chicken is very good as well.
The pics were taken with my camera phone so once again, please excuse the quality. Hey, at least you get to see what I'm talking about! ;)