Today I sampled a couple of local joints. I have a personal favourite location, but I chose these as I hadn't had them before. Today's contenders: Tugseys Fish & Grille (277 Port Union Road) and Malt & Salt Fish & Chips (285 Lawson Road).
Tugseys: Medium Halibut & Chips: $8.50
When I originally opened the box I was sort of shocked to see the size of the fish. Fairly small, limp looking pieces of fish. The batter was a bit soggy but not too bad taste wise, I prefer a crisp batter. Here's the kicker: you know how they say good fish shouldn't smell like fish? Umm, well this bad boy smelled like fish and tasted like fish. Not so hot.... The chips weren't so bad, they had a nice colour but weren't really crisp. For me there was too much skin left on the potatoes, it was kind of a turn off.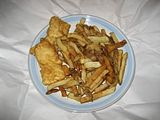 Next up:
Malt & Salt Fish & Chips: Mon-Wed Special, Cod & Chips: $6.00
You can see from this picture, the portion was very large. The fillet itself was a bit thin but the batter was super crisp and not overly oily. The fish tasted fresh and wasn't overpowering. The fries were crisp on the outside and creamy on the inside, exactly what I look for in a chip. They have another Mon-Wed special, haddock and chips for $5. I'd probably check that out next time.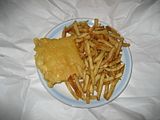 The owners of both shops are super friendly people. From the clippings on his wall, I think Tugseys owner was renowned for a previous hamburger restaurant. I did notice that he has a large number of hamburgers with creative names listed to order on his blackboard. If I was to go back, I'd try a burger but I can't recommend the fish.
Anyone up for half a kilo of cold leftover chips?