New to the scene on the Lawrence strip is Al Tanoor (1993 Lawrence Ave E). I hadn't heard of this place before today and as I was driving by, my shawarma radar went off. It was still early (just before 11am) when I arrived and the store was just being set up. The beef and chicken shawarma were already in full rotation however....
They offer a shawarma special which comes on a house baked sammoun bun, which is sort of a flatter version of a crusty French or Italian roll. The cost? $3. I ordered one of each of the chicken and beef.
The chicken was well spiced, I seemed to detect cinnamon as the dominant flavour, it could be allspice, needless to say it was delish. It was moist and flavourful with a great char on the outside of the meat. I had it topped with fresh lettuce, tomato, onion, parsley and pickled turnip. Sauces are hummus, garlic, tahini, hot sauce and one other I hadn't seen before, it looked like a runnier version of tartar sauce (I have no clue what it's called). Be warned, the hot sauce is hot, the woman who served me put just a tiny bit on and I could pick it out with little hesitation.
A shot of the chicken, taken in the wild: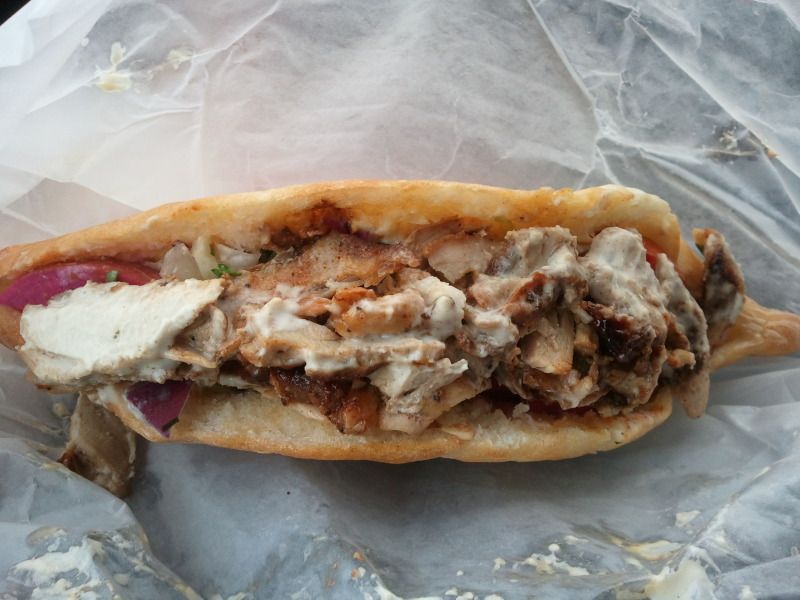 The beef had to wait for the ride home. I think the beef may have a touch of curry in it as it seemed to have a greensh yellow tinge to it, again I picked out cinnamon and or allspice as the dominant flavour, but, it had a well balanced flavour overall. Again the beef had a nice char on it and was very moist, it wasn't as 'beefy' as those from shawarma empire but was excellent overall.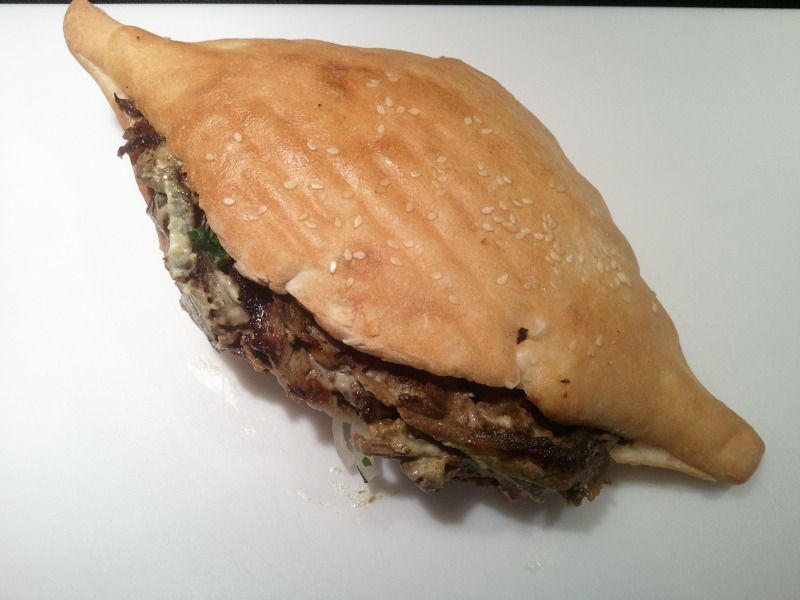 The place was very clean and modern looking, and the woman who served me was very pleasant, explaining to me what a sammoun was and that in Iraq, people love them. It's good to have another excellent shawarma joint along the Lawrence strip, I just wish some would move out to Durham to provide some competition out this way.