On my way to Savannah Georgia, I passed by a roadside sign for
Maurice's Gourmet BBQ
, a place I'd never heard of before. It turns out there are 14 locations around the Columbia South Carolina area. I happened to stop at the 4411 Devine St location in Columbia. It's a tiny location offering mainly drive through service.
I was tempted to pull over here because I've never really tried South Carolina style BBQ. South Carolina style BBQ is typically served with a mustard based BBQ sauce. This differs from the tomato based sauces most of us in the rest of North America are used to seeing.
Looking over the menu I decided on a Little Joe sandwich basket which comes with a 5oz pulled pork sandwich, fries, slaw and two hushpuppies. Hushpuppies are simply cornbread fritters, quite often generously flavoured with onion and can be sweet or savoury. Hushpuppies are a favourite of mine and whenever I'm in the south I look forward to the many variations of this dish on offer.
Onto the meal.... The pork although apparently pit cooked, lacked any smoke flavour and didn't seem to have much of a rub on it at all. The mustard sauce was very nice, having an appealing tang. I actually dipped some fries in the small container of sauce that was served on the side. The fries were very ordinary, standard frozen variety. What I really loved were the hushpuppies. They had a slight sweetness and were packed with oniony flavour, they were very tender and had a light texture. They were one of the better hushpuppies I've ever had.
Unfortunately the meal was pretty blah overall, the hushpuppies were excellent.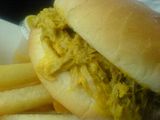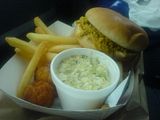 Sorry about the image quality, years of storing the cell phone in my pocket has messed up the lens and everything gets a haze around it now....