Alright, it's a chain, sue me.
I have been bombarded by ads for the 'new' thicker applewood smoked bacon commercials Wendy's has been putting out recently and decided to see if it's worth the hype. I had a Bacon Deluxe (formerly called the Big Bacon Classic) which is billed as: "Four strips of Applewood smoked bacon piled high atop a hot 'n juicy beef patty, made to order every time. Add American cheese, cool and crisp veggies with a little condiment love and you've got a burger to satisfy your senses."
Ok.
Here what arrived for my $5.80 (after taxes):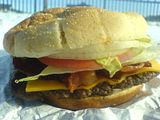 Not too shabby! One of the better looking fast food burgers I've seen.
How did it measure up? In a word, meh! The most pronouced flavour of the burger was onion. It's thinly sliced but it still managed to dominate the flavour profile of the burger. The beef was dry and underseasoned, what was supposed to be the star of the show (the bacon) had no real pronounced smoke flavour even though it did look fairly thick.
For close to $6 for a burger, no sides, you can do much better.