I stopped by
Tangerine Asian Cuisine
(30 Taunton Rd. East) in Whitby this afternoon for some takeout. They claim to specialize in Szechuan and Hakka cuisine but also have some Thai dishes on their menu. I ordered a few Hakka dishes, some familiar, one not.
I started with their chicken pakoras ($9.25). They were the highlight of the meal. They arrived crisp on the outside, cooked well throughout and with large chunks of chicken in them. They were perfectly spiced (a nice tingle of heat without overwhelming). I could pick up a hint of cinnamon or allspice, a nice touch compared to the drab, almost tasteless pakoras I had at Lin Garden. For the amount you get I thought they were a little expensive, at least they were very tasty.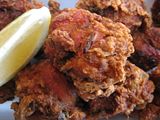 Next up I had the Manchurian fried rice with shrimp ($6.75). The rice was cooked perfectly and I was impressed with the amount of shrimp the order contained, it lacked a little in the flavour department. While Lin Garden and Kim Kim have a bright pink and highly perfumed rice, Tangerine's looked and tasted pretty close to your average order of fried rice (not that there's anything wrong with it, it's just not what I expected). It was a pretty oily as well, something I noticed when I took out the leftover rice to reheat some.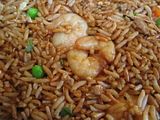 For my first main I had Chili Chicken ($8.50). I was impressed with the quality of the chicken found in this dish, there were no real pieces of gristle that were found in the order from Lin Garden. The chilis are finely chopped so you don't end up with big chunks of chili in each mouthful. It's got a heat which builds gradually and does get fairly hot, so lovers of heat this one's up your alley. Flavour wise it was better than Lin Garden but still didn't pack any bold flavour. The sauce is nice, has a nice heat to it but seems like a gravy more than anything else. What turned me off a little was that there was too much sauce, way too much. It's almost like it was a chili chicken soup. You can order it dry, I will try it that next time.
The weakest portion of the meal was the beef in spicy garlic sauce ($8.50). Cracking into the container revealed a mass of greyish thinly sliced beef swimming in sauce. It didn't look appealing in the least. Tasting it, the garlic was apparent and the spiciness built up over time. It had what seemed to be a seafoodish taste to it, like the beef had been cooked alongside calamari. I was expecting seared beef, it looked like it was simmered in the sauce. Again, there was too much sauce, I would order it dry if I were to choose this order again (which isn't likely).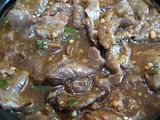 Overall the meal was decent, the orders were fairly generous although not as generous as Lin Garden. I would definitely go back for the Pakoras and would try the dry chili chicken, the fried rice was well prepared but not what I expected, and the beef was a strange tasting mess which I probably wouldn't order again.