Today I hit up Shawarma Empire (1823 Lawrence Avenue E.) for a chicken and a beef Shawarma ($5.99 before taxes). The shop is not quite as clean looking as others in the area but I wouldn't say it's dirty. I'll say it needs a good scrub down.....
Shawarma Empire makes their shawarmas a little differently than most other places I've tried. They use a smaller pita, cut a slice from the top, open the pita, fill it with meat and sauces, veggies, then meat and more sauces and top it with the cut piece of pita in the open end.
They use a salad of lettuce, pickles, pickled turnip, cucumber to make their pitas, additional onion and parsley are added as well. Their sauces include a garlic, tahini and and incredibly flavourful hot sauce (description to follow). Their pickles have a high salt content to them and a nice sourness, they add a tangy salty bite to the shawarma which is very nice.
In their hot sauce I can pick out curry, but there are other flavours mingling in there as well. I believe there is black pepper, garlic and possibly a hint of cayenne for a slight heat. I'd almost think it's harissa, with some added curry and a touch of oil.... Excellent stuff!
The chicken was very moist but as most other local places, not all that heavily spiced. In this case the hot sauce adds what the meat is lacking, although, if you didn't have the hot sauce you'd be missing out on so much.... A minor gripe, because almost every sandwich I saw made, included the hot sauce.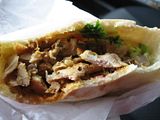 The beef was excellent, crispy on the outside yet very moist, again not heavily spiced but enhanced by the tahini and the hot sauce. The top shot is the meat after I removed the piece of sliced pita, the second shot is after a few bites....
Shawarma empire does a different take on the shawarma with some unique flavours which I wouldn't associate with a traditional shawarma. It's a toss up between this place and Ibrahim as to which is my current favourite....