As part of my new excercise regimen, I broke my mountain bike out of storage last week. I quickly realized that the tires needed to be replaced and my trip computer was broken. Time for some repairs! As I drove down to the local bike shop I noticed
Pizza Pino's Restaurant & Tavern
(855 Westney Rd. S.) in Ajax, a place that I had heard about a few times but had never tried. Today I stopped in.
In my previous 'fatter guy' life, I'd tell you how much I loved pizza, that I could probably eat it every day and never tire of it. Nowadays I don't eat it often. Some of my favourite holes in the walls have been pizza joints like Antonio Pizza just outside Montreal, Calabria Bakery and Fratelli Village Pizzeria in Scarborough, and Bocce Club Pizza in Buffalo. Each have their own style, Bocce Club and Antonio Pizza come heavily topped with a hearty crust while Calabria and Fratelli's are thin crusted, wood burning oven pizzas.
Pizza Pino is very similar in style to that of Bocce Club and Antonio Pizza, probably more so the latter (Montreal style) because of it's crisp crust (Bocce's is more breadlike).
I got a large (14") pizza with pepperoni, bacon and green olives ($18.85). I was told the wait would be 25 minutes, a good sign.
When my order arrived the box was very heavy for it's size. When I got it home I was met by this: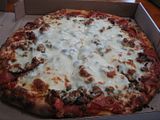 Impressive, loaded with toppings and very well cooked, the crust was nicely browned and it smelled heavenly.
I tugged a piece loose and went at it. The crust had stayed amazingly crisp, the cheese was extremely thick, and there were piles of bacon, pepperoni and olives hidden underneath.
How was it? The sauce wasn't spectacular, actually, it tasted somewhat like spaghetti sauce but it was perfectly fine. The pepperoni was similar to what you can get in a supermarket. I prefer a harder, more zesty pepperoni but this is fine as well. The bacon was diced (unlike the pictures on their website). My only complaint is that the cheese doesn't have a great melt to it. It retained a rubbery texture once cooked. It's amply applied, it just seemed like a 'cheese product' to me.
Overall I really liked the pizza, it fills a niche that's definitely lacking in this area. Price wise, it's not too much more than local chains and the product is far superior. When I'm craving a Montreal style pizza it'll be my go to place from now on.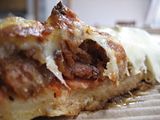 Author's note: Dear Pizza Pino or their webmaster, I have no problem sharing my photos. It would have been nice to have been asked to use the first photo in my blog post (of the complete pizza) rather than simply taking it and posting it on your web site.