I love onion buns and have, in the past, taken sandwiches on them for lunch for weeks at a time.
The other day I was browsing a bread making site I found called The Fresh Loaf and found a recipe for
Norm's Onion Rolls
and decided I must make them.
I followed the recipe pretty much as directed (I did rehydrate 1/2 cup of onions instead of 1/4 cup because I'm an onion lover). I didn't have bread flour so I used all-purpose, and I used all sugar because I didn't have malt syrup.
They turned out beautifully, but after they cooled they turned into little rocks..... I am not a pastry chef so I'm not sure what I did wrong, I'm assuming it was cheap, all-purpose flour. The same thing has happened to my pepperoni rolls using this flour. In the end I threw them away; such a waste of time...
Next time I will use bread flour and make sure I follow the directions to a T.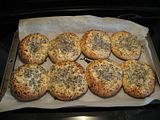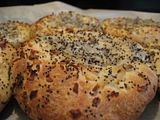 With more practice and patience these will improve.