A BBQ staple and very addictive, the humble Atomic Buffalo Turd (ABT in short). The ABT was introduced to me on a BBQ forum about 4 or 5 years ago and are a must have for any BBQ gathering. They are simple to make but time consuming, the rule of thumb is to always make twice as many as you think you'll need, they are that good.
There are many variations of this recipe, my recipe is as follows:
Ingredients
10 jalapenos
1 pound of thinly sliced, reduced salt bacon (I prefer Maple Leaf)
1 to 2 cups of shredded cheddar cheese
1 brick of room temperature cream cheese
1 teaspoon of minced onion
freshly ground pepper to taste
-In a bowl mix the softened cream cheese, the shredded cheddar, the minced onion, and pepper with a fork until everything is incorporated into the mixture.
-Remove the stems from the jalapenos (You may need to slice them off, be careful not to cut into the pepper itself).
-Cut each pepper in half.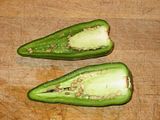 -Using a teaspoon, remove the seeds and the inner membrane without disturbing the stem end of the pepper. This will help remove much of the heat from the pepper.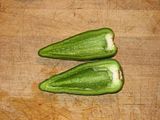 -Stuff the pepper with the filling mixture, to just above the cut line.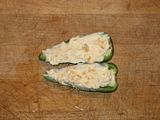 -Wrap each jalapeno half with a slice of bacon.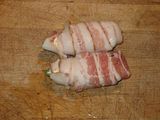 -Bake at 350°F using indirect heat on a BBQ (or in an oven on a broiler pan so the moisture drains). Remove when the bacon has crisped and the jalapenos have softened. A telltale sign they are ready is when the cheese starts to be squeezed out of the jalapeno.
Serve hot!